I am thinking of getting my 2017 list ready
so I can start those projects
my sewing buddy has two doxies
one brown one like this named Brody
and a black one named Max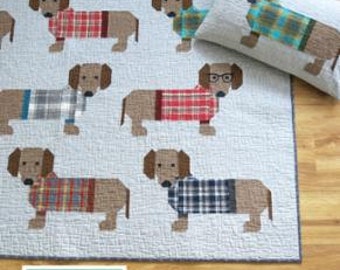 I bought this pattern to make for her
how adorable are they all in their
sweaters?
and the glasses..........
OMG
cuteness overload!
so I need to get at least one dog done to see
how it goes
worse case scenario a doxie pillow would work too!
my purples and pinks bin runneth over
so I decided to do a little cutting and put the pieces into this
basket
some 5 inch squares
and 2 1/2 inch strips
then I will make more of those purple and pink
blocks that I found 2 of
an make a girly quilt
I have one granddaughter so
maybe she would like that this Christmas
for her bed
I will alternate the pinks and purples
by making the center one color
and the outside another
the good thing about cutting up stash like this?
a new tin to store useable pieces in
see it it getting full already
from the strips that would be too small
for this project
but will work for another
are you planning for Christmas yet?